This recipe is from Add a Pinch. "This honey, soy, garlic, and ginger marinade is delicious with ribeye, flank or skirt steak! Skirt steak cooks quickly, making it perfect for a weeknight, or weekend favorite! Skirt steak is a long, lean cut of beef from the chest and underbelly of the cow. It has a more pronounced beef flavor than flank steak and takes well to marinades."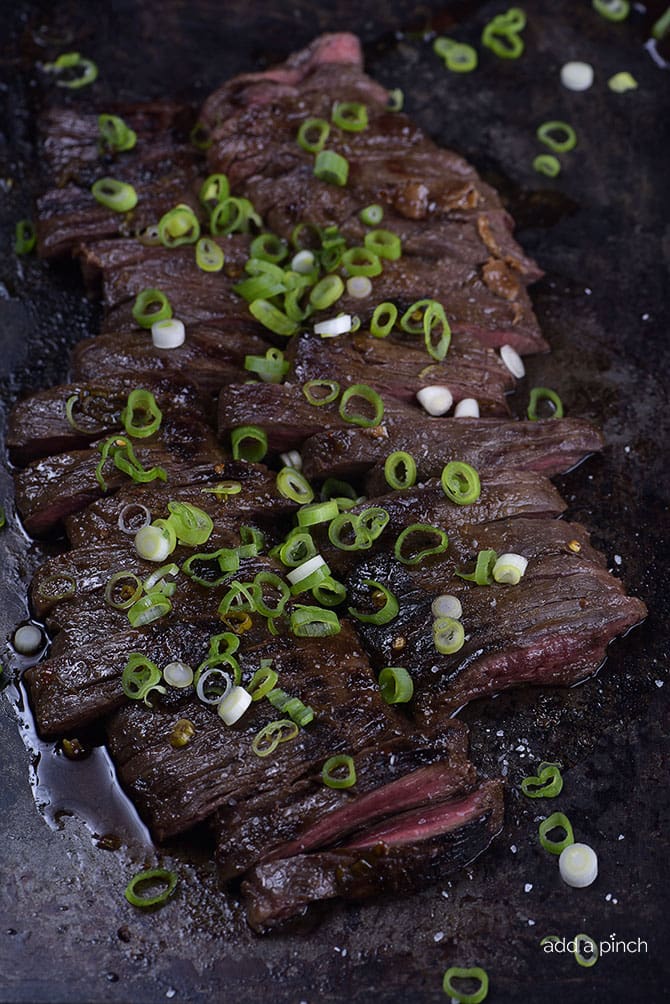 Prep Time: 5 minutes
Cook Time: 6 minutes
Total Time: 11 minutes
Servings: 6
Ingredients
2

 

teaspoons

 

olive oil

 

divided

1 1/2

 

teaspoons

 

soy sauce or coconut aminos

1 1/2

 

tablespoons

 

honey

1 1/2

 

teaspoons

 

red wine vinegar

1/2

 

teaspoon

 

crushed pepper flakes

1/2

 

teaspoon

 

ground ginger

1

 

clove

 

garlic minced or 1/2 teaspoon garlic powder

1

 

(12-ounce) 

skirt steak

2

 

teaspoons

 

kosher salt

 

divided

1

 

bunch green onions

 

finely sliced, divided
Directions
Place the skirt steak into a 13x9 baking dish or into a thick zip top bag.

Combine 1 teaspoon of the olive oil, soy sauce (or coconut aminos), honey, red wine vinegar, crushed pepper flakes, ginger, half of the kosher salt, and half of the green onions in a small bowl or a measuring cup and then pour over the skirt steak. Cover the skirt steak with plastic wrap (or seal the bag) and refrigerate for 1 hour.

Drizzle the remaining teaspoon of olive oil onto a grill pan set over medium high heat. Add the skirt steak to the skillet and cook for 3 minutes. Then, turn the steak over and cook for another 3 minutes. Remove from the skillet and slice the steak into 1-inch pieces. Top the steak with the remaining green onions and season with the remaining kosher salt and serve.