We found this recipe on The Healthy Foodie. "Think of  it: ground beef can really be made / shaped into an infinite amount of dishes, not just patties or meatballs! It can be enjoyed hot or cold, morning, day or night. It can be turned into something extremely fancy or totally super rustic. Ground beef is the one meat that will always take me out of trouble when the fridge is practically empty. I know it's done miracles for me this week."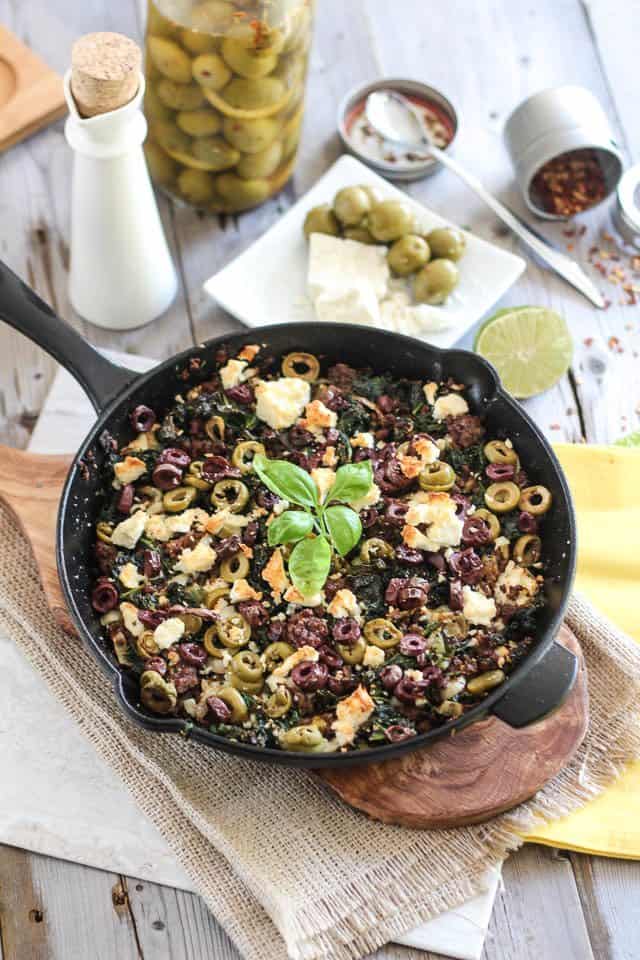 Servings: 3-4
Ingredients
450g grassfed ground beef
1 small onion, finely chopped
2 cloves garlic, minced
¼ tsp Himalayan or unrefined sea salt
¼ tsp freshly cracked black pepper
2 tbsp dried oregano
1 tbsp dried savory
1 tbsp dried parsley
100g kale, stems removed and chopped
100g endives, chopped
200g goat feta cheese, crumbled (omit for strict paleo)
¼ cup sliced kalamata olives
¼ cup sliced green olives
Recipes
Add a little bit of cooking ghee to a heavy skillet (cast iron preferred) set over medium high heat. When the fat is nice and hot, add onion, garlic and salt and pepper and cook until fragrant and softened, about 2-3 minutes.
Add ground beef and continue cooking until the beef is completely brown. Add kale, endives, oregano, savory and parsley and stir well. Set heat to medium and continue cooking until kale is dark green and wilted, about 3-4 minutes.
Kill the heat and stir in half the goat cheese, if using.
Sprinkle the olives on top, followed by the rest of the goat cheese.
Set in the oven on broil for a few minutes, until the olives start to wrinkle slightly and the cheese takes a light golden coloration.
Serve piping hot and drizzle generously with extra-virgin olive oil. For a bit of an added kick, sprinkle a little bit of hot pepper flakes all over the top.