We found this recipe on Chef Savvy. "You don't always think of Asian food and turkey together but these two are a perfect match. The asian sauce and baking method gives the lean turkey lots of flavor and moisture. Turkey is naturally low in fat and provides immune-boosting nutrients like iron, zinc and potassium. It's also packed with lean protein to keep you feeling full longer."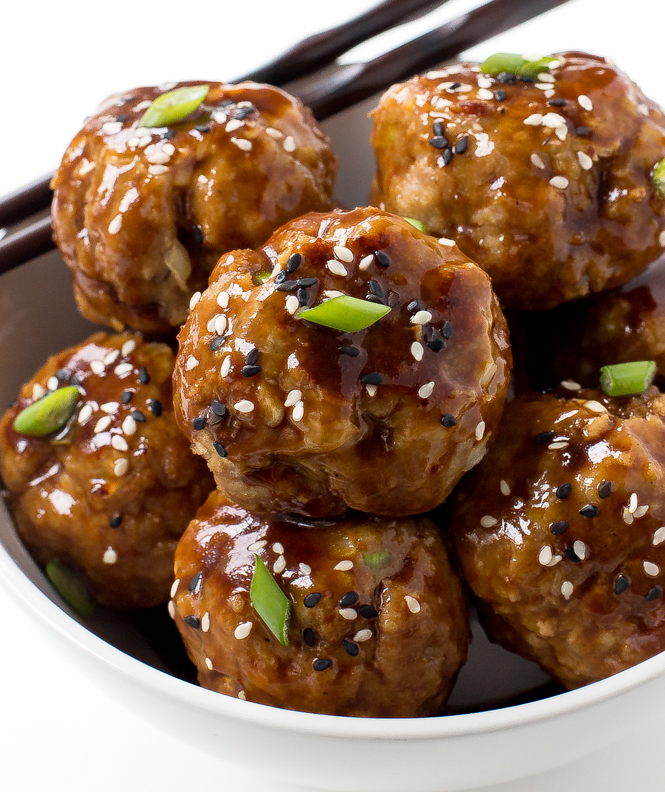 Prep Time: 10 minutes
Cook Time: 20 minutes
Total Time: 30 minutes
Servings: 4 (yields 12 meatballs)
Ingredients
Meatballs
1 pound ground turkey
¾ cup panko breadcrumbs
3 cloves garlic, minced
1 whole green onion, both green and white parts, chopped
1 large egg
½ teaspoon sesame oil
1 tablespoon low sodium soy sauce
Asian Sauce
¼ cup hoisin sauce
⅛ cup low sodium soy sauce
1 tablespoon water
1 teaspoon sesame oil
green onions for serving, if desired
sesame seeds for serving, if desired
Directions
Meatballs
Preheat oven to 400 degrees.
Add turkey, breadcrumbs, garlic, green onions, egg, sesame oil and soy sauce. Mix with your hands until combined.
Grease a baking sheet with oil.
Portion out 12 meatballs. (Working with slightly wet hands helps)
Place meatballs on the oiled baking sheet and cook for 15 minutes or until fully cooked, flipping halfway through.
Take out of the oven and toss with the Asian sauce.
Serve immediately and garnish with green onions and sesame seeds, if desired.
Note: If you are freezing the meatballs do not toss with sauce until ready to serve.
Asian Sauce
Add all of the ingredients to a medium bowl and stir to combine. Set aside until meatballs are done cooking.